2018 Women's Retreat
2018 Women's Retreat
April 20 - 22, 2018
Loon Lake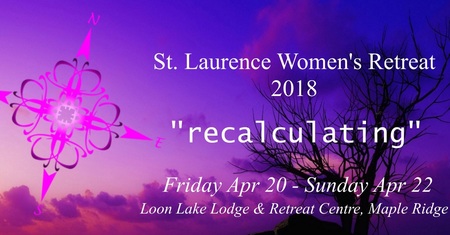 Registration is now open for this relaxing weekend away at Loon Lake, where we will explore ways of "recalculating" in our personal, spiritual and church lives. It is an opportunity to reconnect with ourselves, find community in each other and enjoy great food and great company. This is a women's event so feel free to invite a friend. Cost is $260 for 2 nights and 6 meals.
Registration forms are available at the table across from Eric's office or you can download one at the link below.
Space is limited. Please register by April 1st.
Contact Erin Barr for more information.
Available Files to Download
To download, right-click the file and select "Save link as".
Ministry Spiritual Formation
Return to Events
---