Notes of Interest - A Choral Concert
Notes of Interest - A Choral Concert
Saturday, September 16, 2017
7:30PM - 10:00PM
825 St. Laurence Street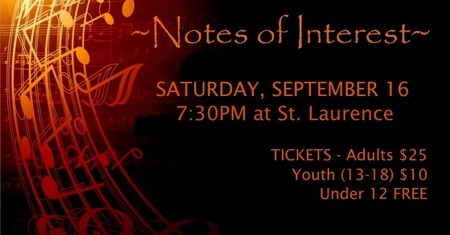 An evening of choral music by the choir of St. Laurence, Coquitlam. Dessert, coffee and tea will be served at intermission.
Tickets are available for purchase on Sundays at St. Laurence. Contact the office for alternate arrangements.
Tickets: Adults $25, Youth (13-18) $10, Children under 12 are FREE
Available Files to Download
To download, right-click the file and select "Save link as".
Ministry Music
Return to Events
Save Event to your Calendar
---