Save to your Calendar
This weekend we've got a couple events happening...
~
This Saturday, Dec. 4, 10am
St. Laurence
For most of the year, St. Laurence has been on a journey of learning about the church's and Canada's relationship with Indigenous peoples. As part of that journey, this Saturday St. Laurence is hosting the blanket exercise, an interactive workshop learning about the history of Canada from the perspective of Indigenous peoples. I've taken part in the blanket exercise a number of times, and it's really quite a powerful experience. Highly recommended.
~
Advent Youth Worship Night -
This Saturday, Dec. 4th, 7pm
St. Cuthbert's, Delta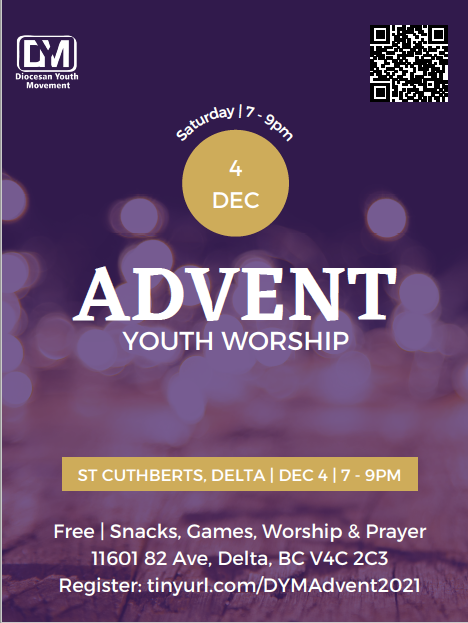 On Saturday night, join with youth across the Lower Mainland for a night of Advent-themed games, prayer, and worship, led by the Infinitely More band! It's going to be an amazing night. Make sure to register at the above link!
Meet at St. Laurence between 6 and 6:15 to carpool out, and let us know if you need a ride or are able to provide one. Thanks!
~
Finally...mark Dec. 17th in your calendar!
While we are sorry to have cancelled the Seymour retreat this month, we're planning a Christmas party and sleepover for Dec. 17th and hope that you can join for a fun evening! More details soon...
If you have any questions, feel free to let me know.
Peace,
--
Jason Wood
(He/him/his)
Youth and Families Ministry Coordinator
St. Laurence Anglican Church | Coquitlam, BC
Ph: 604-396-5391