Hey St. Laurence families,
Happy Easter! I love that Easter is not just a day, but a whole season of joy and celebration, as we learn to rejoice in Christ's victory over the grave and allow it to renew our faith. Love is stronger than death. Alleluia!
Here's some news for the next couple months:
________________________
Craft Sunday - RSVP by Friday
This Sunday is another craft Sunday! We'll be making fish-shaped books, as we remember the meal of roasted fish that the risen Jesus ate with his friends.
Please let me know by Friday
if you would like to participate, so we can deliver a craft kit to you on Saturday.
Here's the link you'll need:
Topic: St. Laurence Kids
Time: Apr 11, 2021 11:00 AM Pacific Time (US and Canada)
Every week on Sun, until Jun 13, 2021, 10 occurrence(s)
Join Zoom Meeting
Meeting ID: 964 3572 3278
_________________________
New age groups
On craft Sundays for the next several months, we will be experimenting with a
late elementary/middle school group, for kids 5th-9th grade
. We'll all use the same link and start with the same craft, then split into breakout rooms. We hope that this allows us to connect with each other and explore the Bible story in a way that feels age-appropriate and engaging.
If you (or your child) have not been participating in Sunday mornings over the last year, this is a great opportunity to connect (or re-connect) with some other kids in a similar stage.
_________________________
Spring Schedule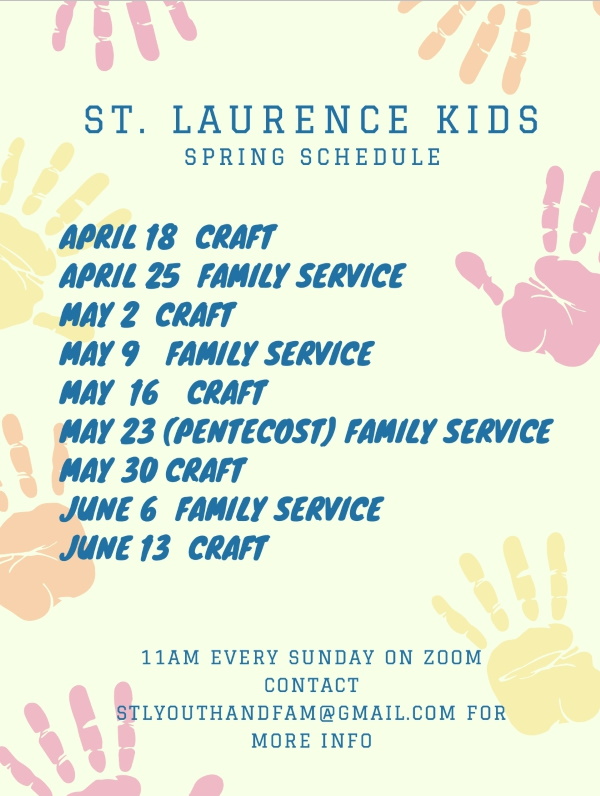 Here's our spring schedule until June. The main shift: we are letting go of church school, and will be alternating between family services and craft Sundays. Family services will be all kids and parents together, craft Sundays split into groups of kids.
Let me know if you have any questions!
Blessings this Easter season,